Being intentional is about focusing your thoughts and emotions on what's important to you. You choose and plan your actions and behavior carefully to achieve your desires. You set a clear purpose
When you choose to be intentional every day, good things can happen. Here are a few examples:
A person who intentionally eats good food daily will usually feel physically well.
Someone who intentionally studies daily will likely achieve good grades.
A person who intentionally works on their business daily can eventually make a profit.
Living life with intention can help give us direction and purpose in life. We have a sense of meaning that allows us to think more positively.
There are a variety of ways you can be more intentional in your daily life. You don't have to just go through the motions.
One research study found that we spend 95 to 97% of our lives in autopilot. If that thought alarms you, it's time to snap out of autopilot and start getting intentional.
If you're feeling ready, first you need to know what is living intentionally and how to do it. Then, you can practice my list of 25 ways to be more intentional and start creating a happier life.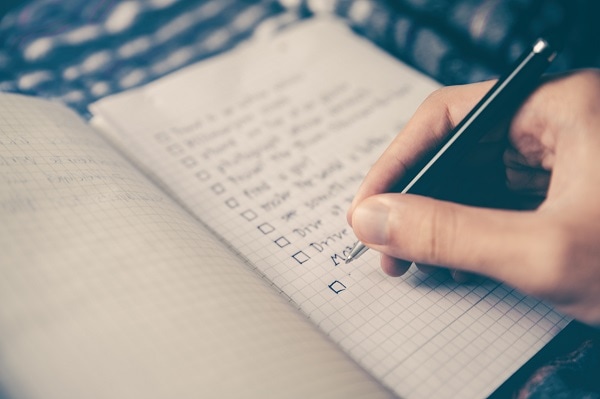 What does being intentional mean?
To simply put it, being intentional means knowing what you want and doing what you can to get what you want. You have specific outcomes in mind that you hope to accomplish in the future for a better life.
So you first have to know what exactly you want. Determine your priorities in life. Settle on a passion that inspires you to wake up early and start your day off right.
When you've settled on a passion, determine the actions you'll need to start doing consistently. How you spend your time, your energy, and your money should align with what matters to you.
Anything in life that isn't aligned with that needs to change. It's not going to be easy, and it certainly won't be perfect, but it can be worth it.
Be bold enough to let go of the past, let go of a person, or anything that's preventing you from achieving your desires. You have the power to take control of your daily decisions and start creating a happy life.
Chose to follow your own path, make your own choices, and consistently re-evaluate what you're doing. Don't just follow the path that others want for you. Don't just make choices for others.
Think about why you're doing what you're doing. If there's no thought in your choices in life, there's no real intention.
Reflect on where you want your journey to go and take the actions that are necessary to get where you want to be. With deliberate thoughts and actions, it's possible to live the life you want.
25 Ways to Be Intentional Every Day
1. Plan your day with purpose
Write out your important tasks for the day and come up with a schedule. Knowing what you intend to do with your time and energy can make your day more purposeful. Learn about how to plan a productive day and go to bed satisfied.
2. Mind your media consumption
Whether you're on social media, watching TV, or watching Netflix, you're consuming a lot of content in your day. It can be a good thing when you're discovering new ideas and stories that enlighten you. It's even a great thing if it's building deeper connections with those you care. about
But when you're not mindfully pursuing media in this way, it can get to a point of wasting your valuable time. It can cause you to compare yourself to others, decreasing your confidence and making you feel more anxious.
Make a conscious choice to use social medial wisely and mindfully. Do the same with television, Netflix, e-mails, blogs, your smartphone, and any other technological tool.
Set boundaries by determining the purpose you're going to use media. Make sure it only serves your good, and if it doesn't, start decreasing the time you spend on it.
So much content we consume aren't things that are positive. We watch news that's negative or look at drama online.
Choose to read or watch content that affects your well-being in a positive way. There are plenty of good news websites that can make you feel positive about the world.
If you're feeling positive, you'll be more motivated and inspired to improve your life. One site I've enjoyed looking at from time to time is Science Daily.
You can find studies on different things that can help you live better. Intentionally choose content that's uplifting and helpful to you.
3. Choose kindness
Being kind reflects an intentional decision about the kind of person you strive to be. Look for ways that you can exercise kindness towards others every day.
Related: The Value of Selflessness | Meaning, Examples
4. Visualize your achievement
Picture in your mind what it is you want to accomplish. Imagine what it'll feel like to reach the goal you set for yourself.
Doing this can help motivate you to put in the hard work. Learn about creating a vision board that can inspire you to keep your daily routine.
5. Do things that make you happy
Doing something that makes you happy is perhaps one of the best and easiest ways to be more intentional every day. You make your life more meaningful and worthwhile. For whatever reason, we live in a world that puts the constant pursuit of success over happiness.
We're encouraged to hustle and be as productive as possible at all times. Most of the time the success society deems worthy is one where we make more money and buy more stuff.
Let me ask you something. What's your definition of success? Is it really getting the most you can get done in your day, or is it just enjoying a cup of coffee and spending time with a good friend?
No matter what brings you joy, finding a little bit of time to do something that makes you happy can make you feel better about life. Make it a point to make your daily happiness a top priority in your day.
Related: Happiness Is a Choice – It's Just Not Always Easy To Make
6. Be an active listener
Relationships are a valuable thing to just about everyone. Feeling connected to someone can make us feel good.
A good way to create a connection is through active listening. You can read this article by Mind Tools to learn more about how to practice it.
Making an effort to understand what someone is telling you and directly responding to that shows people you care. If we lived in a world where we all tried to be more understanding, it'd be a better place.
7. Stop buying stuff you don't need
Think about where your money came from. For many of us who work throughout the week, it comes from hours of work.
Now imagine those hours of concentration or hours of sweat being spent on a $30 dollar shirt. Was the number of hours you had to work for that part of your salary worth it?
Start questioning whether certain things you've been purchasing are things you truly need in life. Start spending more on what's meaningful to you or what makes you happy. That would be well worth whatever hard work you had to do for the money you earned.
Related: The Ultimate Guide on How To Stop Buying Stuff You Don't Need
8. Do something that makes you proud
If you want that feeling of ending your day satisfied, be more intentional about getting something done that makes you proud. It can be something big like finishing an important task you've wanted to get done, or something small like going for a run.
Do something that you'd be proud to say you completed in your day and celebrate that. It'll take your mind away from being down about something in your life.
Related: 3 Helpful Reminders to Be Proud of Yourself
9. Practice self-reflection
Taking time to reflect and evaluate how your intentional living is going will show you if you're on the right path. At the end of every day, think about your environment and what you've been doing. Reflect on whether it's been aligned with your priorities and your vision.
If the answer is closer to no than yes, what you can do to adjust that? Decide what you need to do more and what you need to do less. Commit to striving to achieve that the next day to stay focused on the things you really value
Related: 33 Self Reflection Quotes That Will Inspire You to Change
10. Focus on self-care
If you don't feel your best, you can't live your best. A lot of happiness is tied to how good we feel, and an important tool for feeling good is self-care.
You can have all the money, fame, success and love in the world, but if you don't feel physically and mentally good, you pretty much can't enjoy it. Here are some self-care ideas you can start practicing in your life daily.
11. Question your daily "have to"
All of us feel like we have to do a lot in our day, but in actuality, we probably don't. It's only the society of being extremely productive that tells us that.
Certainly, there are some things which have to be done due to schedules and deadlines. But not everything has to be done by the end of the day.
In blogging, we're taught that content is king. Some teach bloggers to write every day to be successful. But after you do it for so long, you realize it's simply not necessary.
That's true of a lot of other things in life we think we have to do every day. Start pondering whether some of your daily habits that you've been told to do are necessary for your happiness and well-being.
12. Use your time wisely
It helps to schedule when you plan to get things done. Having structure gives you a sense of control over your day.
You're not stressing over when you're going to get everything done. After a while, you may not need to always write down an exact schedule.
You may be able to just schedule tasks for the morning, the afternoon, and the evening. When you choose to be deliberate with your time, you'll be able to make the most out of your days.
13. Make a to-do list
Without a to-do list, it can be overwhelming remembering everything in your head. Writing them out can at least reduce the burden you feel.
It also helps to ensure you don't forget something. If you get most of your to-do list done, you can feel pretty good about yourself. But don't feel pressured to get everything done, just do what you can each day.
14. Wake up early
Some of us have no choice but to wake up early because of our jobs. If you do have a choice, a good way to live intentionally is to start your day early anyway.
How often do you think, "I wish I had more time in my day." We all use the same 24 hours as everybody else. It's no accident some people manage to get more done than others.
A part of the reason is because those people wake up and work earlier. An article on early risers noted a study that people who wake up early were usually more persistent. They were less likely to get fatigued or frustrated.
With most things in life, the more you do it, the more you'll get used to it. Wake up early so you can be more productive.
15. Go to sleep early
Sleeping early will help you wake up early. The website, sleep.org, provides some great tips settling yourself down at night.
Among them include, giving yourself a curfew, exercising four hours before bedtime, and avoiding stimulants that keep you up. The earlier you sleep, the less tired you'll feel in the morning. Do your best to sleep early so you can have all the energy you need in your day.
16. Listen to uplifting music
Monitoring what you listen to in your day is also important. A lot of today's music can be very depressing. It seems rare to find a song that has a good message in it.
I'm all for popular music that makes you feel good, but you have to really pay attention to what you're hearing. It may sound catchy, but the emotion and mentality of the song can get in your head.
It can influence you into decisions that may not be the best. Be mindful of what you're listening to.
Choose to have songs in your playlist that will keep your emotions good. It'll make it easier for you to maintain productivity in your day.
17. Meal prep
Meal prepping has been on a little bit of a rise the last few years. It's preparing meals and dishes ahead of time so you can enjoy them when you're ready to.
It's a great way save you some time in your day. It can also help you avoid eating things that aren't as good for you.
18. Think before you speak
Some people say the first things on their minds without thinking about it. It can sometimes result in hurting other people's feelings.
When you think before you speak, you reduce the chances of saying hurtful things. Speak to others in ways that are helpful and encouraging.
Related: Respond, Don't React – Be Measured in Your Response
19. Let people know what's bothering you
I've been guilty of not always saying what's bothering me. That can be a heavy weight in your mind. It can make it more difficult for you to focus on your tasks.
Whenever something bothers you, let people know it in the moment. Don't just let it build up inside of you.
It can teach people how to treat you the way you want. You'll be less likely to be bothered by what they say or do in the future.
20. Reward yourself
It can serve you well to take time to reward your progress. You have to be a friend to yourself as much as you're a friend to others.
Sometimes I've saved videos for myself to watch after I get stuff done. The reward doesn't have to be something big or expensive.
It can be as simple as just giving yourself time to do what you really enjoy. Come up with things you can reward yourself with. Enjoy them when you get your tasks done.
21. Question things
I can hear someone in my head right now as I make this point. They always tell me to question things. To not immediately accept what I'm seeing or reading as the whole truth.
Many of us just accept everything we're told. It can cause us to miss out on opportunities that could be life-changing.
Don't accept someone telling you that something's not possible. You find that out for yourself first. Dig for as much information as you can and try to make things work.
We all need to practice intentionally challenging what we see and hear. We all need to do our own research.
When you question things, you can get closer to an understanding that guides you to a better future. You can discover opportunities that other so easy, you wonder why everyone isn't doing it.
22. Limit distractions
Distractions keep us from getting all of the things we want done in our day. One of the biggest distractions in our lives today is our phones.
Whether you're responding to every text or checking social media, it's not helpful in keeping you focused on what you need to do. Choose to not be on your phone or social media for most of the day. At least wait until later in the day.
By then, you'll have gotten most of what you wanted completed. You won't feel as guilty about being on your phone. The same rule can be applied to television or any other distractions in your life.
Related: 7 Powerful Ways To Break Your Phone Addiction and Have Freedom Again
23. Make time for those you care about
We all live very busy lives at times. We forget about one of the things that matters most in life. Our relationships.
Go out of your way to spend time with your loved ones. It's one of the best ways you can live intentionally.
It can be as simple as reaching out through a text or call. Maybe you can find time to schedule a lunch with someone to catch up on life. Make time for those you care about and nourish your relationships in life.
24. Write and speak positive affirmations
Affirmations can help keep your mind in the right mindset throughout the day. You stay more focused on what's important for you to accomplish. Here are a few affirmation articles that you might find helpful:
25. Be more decisive
There are moments in life where we have to be quick in your decision-making. We can't spend all day focusing on minor details. Practice deciding on small things quickly so you can stay focused on the bigger goals of your day.
How can I start being more intentional?
Starting a life of intentionality can be harder than we'd like it to be at times. You may not be sure what you specifically desire in life.
We can think we want one thing one day and then tomorrow decide we want another thing. But it's okay, because just having some ideas is a good place to begin.
But once you've concluded what your personal vision is, it can be hard to know where to go from there. How do you get to that finishing line of success when you feel you're starting place is so far off?
The simple answer is one step at a time. Each day improving on what you need to improve on. Completing a small task that'll get you closer to where you want to be.
Over time, as you take one step after another, before you know it, you'll be farther in life than you ever expected.
Beyond the successes you reach, there's satisfaction in the journey as you see yourself grow as a person and find true purpose in life.
Decide that you want to be more intentional in life. Ask yourself, do you want to live intentionally?
If the answer is yes, then start writing down the things you want to be doing. It can be some of what I've listed or other things.
Once you write it down, plan how you'll do these things daily, and start doing them.
Final thoughts on living with intention
I spent most of my 20's feeling lost in life and just wasting my time. When you start practicing intentional living, you can achieve more of your personal goals. You can be more likely to fulfill your dream and create a life of purpose.
Don't just let life happen to you and stay disappointed with how things are. Give yourself the chance to author your life. Are you ready to do that?
By living with more intention, you give yourself a chance to improve your reality. You don't have to settle for being unhappy in life.
Try these different ways of living more intentionally. Come up with your own ideas of living with intention.
You can write them down in a journal and keep up with it daily. Success and happiness in life involves making specific choices consistently.
You have the power to do this in your life. I hope this article inspired you to start doing that today.
Inspiring video on living intentionally
Helpful articles on being more intentional
10 Self Care Journaling Ideas That Will Help Improve Your Life
21 Ways to Stop Chasing Happiness and Start Chasing Meaning
20 Ways To Make Yourself Feel Better Now
What Does Success Mean? 9 Ways To Achieve It