Books can be some of the hardest items to declutter. A question you may have found yourself asking is, "Where can I donate my books?"
When we first read a new novel or non-fiction work, we enjoy the new stories and information we discover in them.
But after we've read them over a few times, it can be a struggle to know what to do with our old books.
Perhaps our highest hope for them is that they'll go to a nice home where they'll enlighten another person's life.
Often there are many locations to donate books near you that'll show up in a google search.
Here are some of the most current and up-to-date places you can give away your books.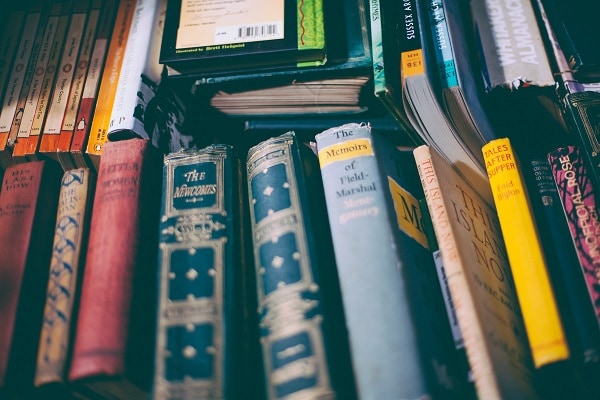 1. The Salvation Army
The Salvation Army has been around since 1865, and is one of the largest providers of social aid in the world.
They note on their site that all proceeds fund their adult rehabilitation centers, where they help people overcome their addictions.
Here's where you can find drop-off locations in your area.
2. Goodwill
Goodwill is a non-profit that focuses on helping people get the support and training they need to gain employment and grow their careers.
They fund community programs from the donations that help people such as single moms, seniors, and at-risk youth.
Here's where you can find a goodwill near you.
3. Local Libraries
When considering donating books to your local library, be sure to contact them to see if they're currently in need of any.
You can ask if there are any specific titles they're looking for or if they're planning any community book sales.
Simply doing a Google search of "library near me" will pull up all of the local libraries that are in your area.
4. Vietnam Veterans of America
Vietnam Veterans of America is a veteran's service organization that's devoted to helping support the needs of all veterans.
A free pickup can be scheduled within 24 hours in most areas and you'll receive tax deduction receipt.
Here's where you can schedule a pickup. The website notes that they accept magazines, hardcover books, children's books, softcover books, fiction, non-fiction, and textbooks.
5. Local charities
Donation Town is an organization that will help you locate a charity in your area that will accept your used books.
They note that free pickups of your book donations can be scheduled within minutes.
6. Local museums
Some museums, such as the Smithsonian Library, do accept historical books for the purposes of research and adding to their collection.
You can contact your local museum to see if they're in need of any books.
7. Local Theaters
Some theaters may be interested in receiving books to use as props for a play. You can contact theater groups in your area to find out.
8. Better World Books
Better World Books is an online bookstore that accepts any books that are in good condition.
They're passionate about spreading knowledge around the world to those who crave it. A percentage of the sales of their books are donated to non-profit literacy organizations
For every book that's sold on their site, the company donates a book to someone in need, having donated millions of books to date.
Here's information they provide on donating books to them.
9. Kids Need to Read
Kids Need to Read is a nonprofit foundation that provides books to underfunded libraries, literacy programs, and schools across the United States.
Here's where you can learn more about donating to Kids Need to Read.
10. Retirement Homes or Assisted Living Facilities
Reading can be a great way for older folks to pass the time and keep their minds sharp. There are many other proven benefits of reading for seniors.
Be sure to ask the senior facility if they'd like to receive any reading material before sending it to them.
11. Local schools
You might find local literacy associations or book drives in your area that are seeking books to give to schools.
You can also contact local schools to see if they're accepting any book donations.
12. Books Through Bars
Books Through Bars is a nonprofit organization that provides free books and educational materials to prisoners in PA, DE, NJ, NY, MD, VA, WV.
They provide a list of most needed books and accept new and used ones that are in good-to-excellent condition.
13. African Library Project
African Library Project creates libraries in Africa through collecting books from book drives in the US and having them shipped.
You can learn more about how the process of a starting a book drive with them works.
14. Reader to Reader
Reader to Reader, Inc. is a public charity that's committed to bringing books to under-resourced school libraries and public libraries.
They serve the poorest communities from Native American Reservations to poor rural towns.
You can hold a book drive for them, raise funds for global literacy, or give a monetary donation.
15. Operation Paperback
Operation Paperback is a national, non-profit that collects gently-used books and sends them to American troops overseas, and veterans and military families that are here at home.
You can help this organization by becoming a volunteer shipper or making a monetary donation.
16 The Freecycle Network
Freecycle is an organization made up of 5,000+ groups and 9 million members giving and getting items for free.
They do this to keep items from going to landfills and adding to our planet's waste.
You can sign-up to become a member of their site and give away any books you have.
17. Books for Africa
Since beginning in 1988, Books for Africa has delivered 50,000,000 books to all 55 countries on the continent of Africa.
You can choose to send books by mail or if you live near one of their drop-off locations, drop off a book.
18. Books for Soldiers
If you happen to have a book that an active serviceman is requesting, you can donate it to them directly.
Book for Soldiers has an online forum that volunteers can become a part of by registering an account and sending a notarized form.
19. Prison Book Program
Prison Book Program is a grass roots organization that sends free books to prisoners. They give to over 10,000 prisoners yearly.
Here's where you can learn about donating books to the program.
20. Re-book It
Re-book It does free pick-ups of novels in the Los Angeles area. The donations go to local charities, hospitals, homeless shelters, or schools.
Any book that isn't sold is recycled. Their main goals are to ensure no books end up in landfills, provide low-cost books to readers, and raise funds for local organizations.
They also help to keep open The Last Bookstore, which is one of the last independent bookstores in Los Angeles.
21. BookMooch
BookMooch is a community of people that exchange used books. You give away one of your books and get a book in return.
For every two books you receive, you have to give away at least one book. They have a point system that allows you to giveaway points to charities they work with to help them get books.
22. Little Free Library
Little Free Library sets up book-sharing boxes across communities that don't have many.
It allows for 24/7 access to anyone who wants to grab a book to read. You can learn how to start a little free library in your neighborhood.
23. Book Aid International
Book Aid provides books to thousands of communities where people have few opportunities to access them.
Be mindful though that they don't accept secondhand books. Those who represent publishers, booksellers, authors, or any other member of the book trade can donate new books.
Anyone else can choose to donate a gift to the organization which will help provide books to those in need.
24. United Through Reading
United Through Reading is an organization that helps military servicemembers be able to read to a child they're close to back home.
They record themselves reading the book, and the child gets to hear them reading it. Volunteers can help by hosting a virtual book drive to provide the books that soldiers can read.
25. Pajama Program
Pajama Program's mission is to provide books and pajamas for children so they can have a comfortable bedtime.
You can create a book drive to help donate novels to them. Keep in mind that this group is only accepting new books, new pajamas, and/or money.
26. Reach Out and Read
Reach Out and Read believes in incorporating books into pediatric care through educating parents about the importance of reading to children.
Here's where you can learn how to donate novels to the organization.
27. Project Night Night
Thanks to Project Night Night, 30,000 Night Night Packages are donated each year to homeless children age 12 and under.
You can donate new children's novels as a part of the packages.
28. Project Cicero
Project Cicero gives you the option to donate books and also purchase books on their wish list.
Any option will help to provide material in classrooms and libraries in under-resourced New York City public schools.
29. The Book Fairies
The Book Fairies give away books to schools and other organizations in need across NYC and Long Island.
If you live in the area, you can drop the novels off at their drop-off locations or schedule pick-ups. They do accept used and like-new books.
Be sure to contact them to find out if you can mail them books if you live outside of the area.
30. Local religion organizations
You can check to see if any religious groups would appreciate receiving a book donation.
31. Children's hospitals
It's never usually fun for a child to end up in a hospital. You can see if it's possible to make their time a little easier by donating old children's novels you might have.
32. Friends and family
You can always ask one of your friends or relatives if they'd be interested in taking some old books from you.
33. Neighbors
If your neighbors happen to have kids, they might appreciate receiving children's novels you have.
You could also consider offering books that you know your neighbor might appreciate based on their interests.
Benefits of reading
When you choose to donate some of your novels, you're doing more than just giving someone a chance to read.
Science has proven in many studies that reading is essential to the functioning and development of the mind.
Here are some of the benefits that can be potentially gained by the readers.
1. Boosts vocabulary and reading skills in children
A study by the American Academy of Pediatrics found that parents reading books with children in early infancy can boost reading skills and vocabulary four years later.
2. Helps aging brains
Research from the Radiological Society of North America found that activities such as reading can preserve structural integrity in older people's brains.
3. Increases kindness
A study done by a postgraduate research student found that those who spent more time reading than watching television were kinder.
Final thoughts on donating books
While researching different non-profits, I also stumbled upon First Book. You can make a monetary donation to them or create a fundraiser, and it'll help books go to 500,000 educators serving kids in need.
Be sure to double check that a group or organization is in need of any novels you're considering giving them.
Do your best to make sure they're in decent condition for someone to enjoy reading.
When you choose to give, you'll not only help someone get to enjoy the pleasure of reading, but also declutter your space as well.
Please take time to look for books you've no longer been reading and consider donating them.