You've probably seen #relationshipgoals all over social media. But have you ever stopped to ask what goals you want for your relationship?
It can sometimes be helpful to look for examples in other couples. But in general, you shouldn't base your relationship ideals on what you see on social media.
Anyone can put up a rosy picture that covers the darker issues going on. Instead, you should come up with goals for your relationship that fits with your deepest values.
A relationship goal is an action or behavior a couple strives for to create a happier and deeper connection within the partnership. Here are a few examples of goals that you can consider setting in your own relationship.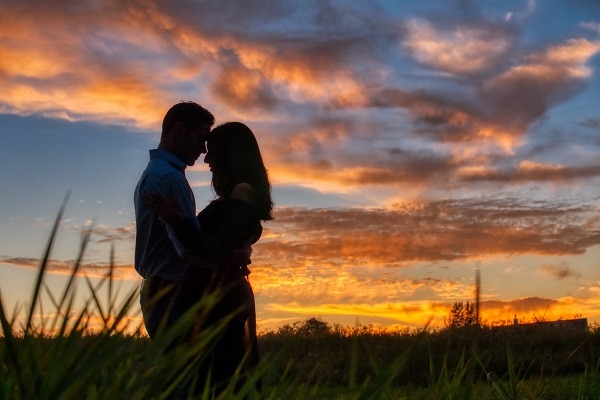 Best goals for a relationship
1. Put the relationship first (be one, not two)
Putting the relationship first involves both partners doing their best to meet each other's individual needs and desires. Everybody wants to see their partner smiling and being happy.
Partners should all desire to do what they can to support, protect, and love each other. When you're both putting the wellness of your relationship first, you're equally caring for each other's peace and joy in life. Mutual selflessness is key to making things work for a long time.
2. Balance time together with time alone
We like to spend all of our time with someone early in relationships. Sometimes even beyond the early stages if someone really makes us more happy.
But particularly in the honeymoon phase, with how new and exciting everything is, you just want to learn more about your partner every day. Though eventually, we all start to find the things that annoy us about our partner, and make you realize you need to enjoy time alone sometimes.
One thing the desire to be alone shouldn't be misunderstood as is a desire not to spend time with your partner. All the desire for alone time means is just all of us having a chance to enjoy ourselves for a little while. When partners are together, they're sharing themselves with someone.
But everyone needs a little time to enjoy themselves to themselves. It helps us mentally and emotionally recharge and maintain own individuality. After the breathing space you both get, you can be back in the best mindset to enjoy your partner again and continue becoming closer.
3. Embody the phrase,"in sickness and in health"
Whether you're married like me or just in a relationship, this is a good phrase for couples to exemplify. There's always going to be good moments and bad moments in a partnership.
It's in those moments where our commitment is tested. You and your partner can pass the test by equally putting in the work to push through those challenges. A study found that the perceived commitment of a partner was the largest predictor of a successful relationship.
4. Respect their love language
According to the five love languages, everyone appreciates a specific way of giving and receiving love. If you're unfamiliar with them, here's what they are:
You might most appreciate giving and receiving love through physical touch. Your partner might most appreciate words of affirmation.
Neither of you are right or wrong in the way you love, as everyone has their own preference. It's important to understand what your partner's preference is and work on loving them in the way they like and vice versa.
That way neither of you feel ignored because you're not receiving the kind of love that's desired. If your partner likes quality time most, make more time for them.
If they appreciate physical touch more, go out of your way to be physically close to them. Whichever love language matters to both of you, make sure you two speak each other's language often. If you're unsure what your love language is, you can take the love language quiz.
5. Continually learn and grow together
The more we grow as people, the better we can be towards those closest to us. A couple can gain a lot of growth by learning new skills together.
Partners can better understand how they think and approach things in life. That could potentially be helpful for creating better communication and interaction.
Doing new and different things also adds shared experiences that become new positive memories between you and your partner. Forming more positive memories together can help to create a deeper connection between one another.
You and your partner don't have to do anything fancy or expensive. It can be as simple as taking a class on something you both have never done.
6. Have a date night routine
According to National Marriage Project, date nights are linked to higher relationship quality and lower divorce rates. The authors of the study expressed that it only takes devoting at least one night a week for time together to enjoy these benefits.
7. Feel each other's pain
In a study done by the American Psychological Association, it found that women are happier when men know when they're upset. In some ways, perhaps men appreciate that too.
You and your partner should always do your best to recognize when the other person is upset. In my own relationship, I usually can spot when my partner is upset a mile away.
Once I detect that signal, I ask her a few questions like whether she slept well or if she's feeling stressed. Then she'll start to talk things out and I'm able to listen and encourage her.
Not everyone is the best at recognizing when someone is acting in a way that indicates they're upset. If you're not, you can learn more about improving your emotional intelligence.
8. Say and do little things for each other
A survey about enduring love found that partners tend to appreciate simple acts of kindness the most. Try getting your partner a cup of tea one morning or pointing out a specific thing about their appearance you like.
9. Make couple friendships
A study out of the University of Maryland Baltimore found that couples who have couples' friendships tend to be happier. The researchers found it helped couples to have increased attraction for each other.
It gave greater them understanding of men and women, and they got to observe how other couples discuss their differences. More introverted couples may not find this goal something they really want to pursue.
To those introverted couples reading this, try keeping an open-mind. You may be surprised how much more joy a couple friendship could bring to your relationship.
10. Be their biggest supporter
The luxury that many couples should enjoy in a relationship is the feeling that you have someone that always has your back. You and your partner should be ready to support each other in whatever dreams or desires you have in life. Two partners believing in each other can make them both feel they can accomplish any goals they set in life.
11. Be positive to each other
People can have their disagreements and differences about how their partner chooses to live, but it shouldn't be a constant. If it is, it can damage the relationship and make the partners feel undervalued.
The primary mode of communication between partners should be kind and positive. Think about what you love about your partner when moments of irritation come up.
Partners that care for each other will continually work on improving each other's behaviors over time. If things are not changing though, don't be afraid to look into professional help to dive deeper into the problem.
12. Maintain physical intimacy
Physical intimacy is more than just between the bedroom sheets. It's important to understand that, as times may come up where that form of physical connection isn't available in the moment.
Despite that, there still can be something gained through just touching and being close to your partner. Cuddling has been proven to release oxytocin which calms us and helps us better handle stress. Strive to make sure that physical intimacy is never neglected in your relationship.
13. Less texting
A Brigham University Study concluded that texting between couples can sometimes cause a disconnect within a relationship. There were differences between when men and women felt disconnected by texting.
With women, they felt disconnected whenever there were apologies or differences worked out through text. With men, they feel disconnected whenever texting was too frequent.
Interestingly though, it was found that texting expressions of affection enhanced relationships. Overall, it's good to do your best to make most of your conversations with your partner happen outside of text.
14. Have conversations about the relationship
As time passes, thoughts evolve, emotions change, and people can become a little different. As a result of you and your partner individually growing in life, it can cause changes in your relationship.
You two may decide there are new or different things you want out of life and from each other. It's important to talk about the changing desires you have and discussing ways those changing desires can be fulfilled.
Check-in with each other often to make sure you both feel overall satisfaction. Keep discussing ways to increase that satisfaction if one of you feel it needs to be.
Cornell gerontologist Karl Pillemer sought the insight of 700 individuals with 40,000 years of marriage experience. The top advice that was often given is that couples learn to communicate to each other.
Older married people said open communication was key to solving most marital problems. Even those whose marriage didn't last said the main cause was a lack of communication.
15. Seek therapy from time to time
Even couples who feel they're happy can benefit from learning tools that help them function better as a couple. Marriage and couple's therapists can provide you knowledge based on years of research and experience of what works.
A University of California study found that therapy can help married couples if both partners have a desire to improve the marriage. Consider pursuing therapy to help maintain the emotional and mental wellness of your relationship.
16. Don't be too competitive
Whether it's one partner making more money, or another partner finding more success in life, be sure your relationship doesn't become a competition. When your partner gets exciting news in life, that news should be exciting to you too.
Beyond achievements in life, don't make your relationship a competition of who does the most work for it. There may be moments where you have to do more to keep things going, and other moments where your partner has to do a little more.
The important thing is that for the most part, when push comes to shove, you both try to do your best to keep things going. That's what helps a relationship to last long.
17. Don't support too much
While being a big supporter was mentioned earlier as a goal, one study found that couples can overdo being supportive. In particular, too much informational support, such as giving unwanted advice, is the kind of support that can cause dissatisfaction.
Overall, for men, it was important that the right kind of support was provided as needed, whether it's emotional, informational, esteem, or tangible support. For women, it's just important that some kind of support is provided. Researchers suggest asking your partner what you can do to support them.
A pew research study found that more than half of married adults believed sharing household chores was important to a happy marriage. When both partners are doing an equal share of work in the household, that prevents anyone from feeling like they're doing everything alone.
No matter what needs to be done, the important thing is that it gets done so it's no longer a burden. The less burdens there are, the less stress there is, and the more potential for happiness between you two.
19. Pray for your partner
Studies have found that praying for your partner can actually lead to a long-lasting relationship. This relationship strategy is found to help partners have more compassion for each other.
20. Make yourselves happy
While your partner can bring happiness to your life, it's important we all make our own happiness as well. Both partners should do their own work in creating individual happiness. The happier you are individually, the happier you can help make your partner.
Final thoughts on relationships
Much research has shown that when couples are happy, it benefits their overall well-being and may even increase longevity of life. It's in every couple's interest to do what they can to improve their relationship.
Hopefully these suggestions have helped to get you started. Feel free to come up with your own objectives that can uniquely help you and your partner be happier together.