Your life is yours to make great. A new year can be the beginning of you living the way you've always wanted. The beginning of finally achieving all the goals and desires you have.
It can all start with making the right resolutions. The common hopes many have every January 1st include:
Getting fit
Increasing finances
Dealing with less stress
If 2021 wasn't great for you, let that motivate you even more to make 2022 your best year yet. Living life to the fullest and living in the moment don't just have to be tired old cliches.
They can be real words that are true to your daily life. Here are a few intentional choices you can consider striving to make a part of your routine this new year.
Related new year's articles:
22 New Year's Resolutions To Make 2022 Your Best Year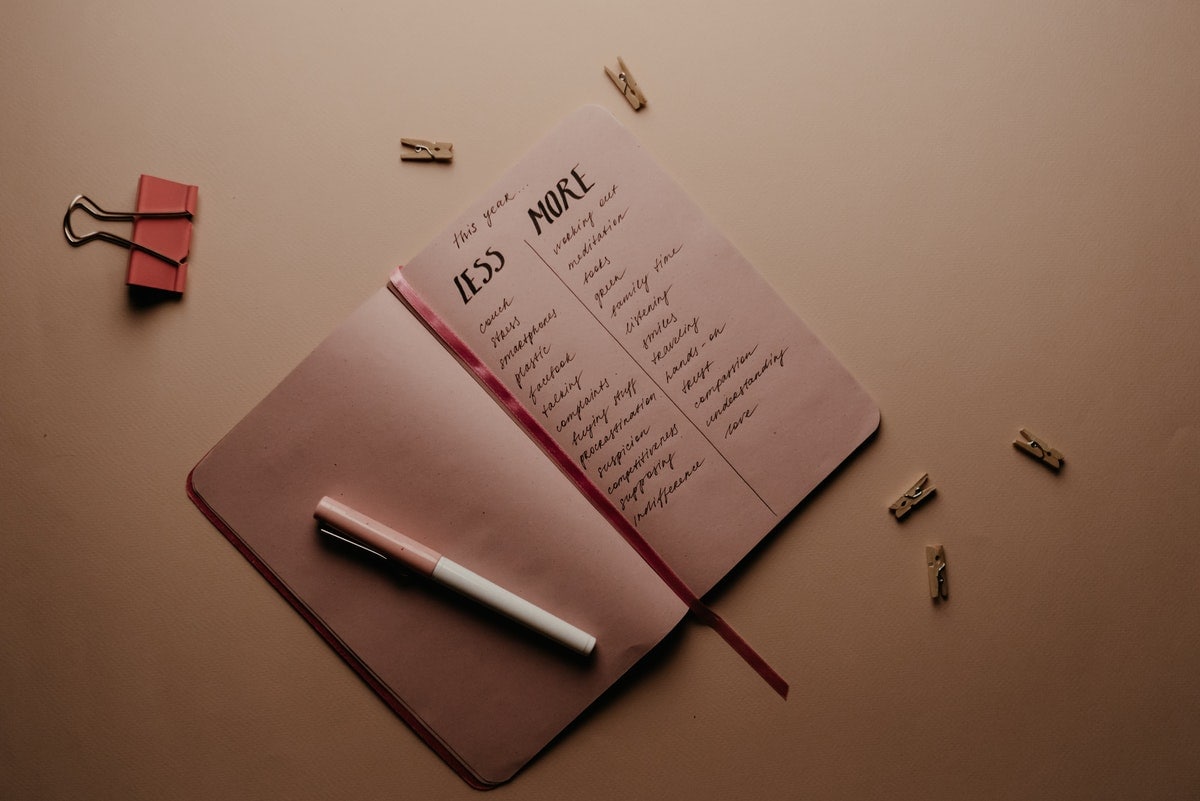 1. Be more present
You can't change what happened in the past. You also can't completely control what happens in the future. What you can do is focus more on the present.
Choose to do things now that help prepare you for moments in the future. Making to do lists, for example, can help you have a more productive day.
Another form of being in the present is expressing gratitude. Practice regularly thinking of all the things you can be thankful for in life.
Gratitude has been proven to help make us happier. Focus on the good things going on for you right now.
Lastly, consider looking into meditation and mindfulness. These are good ways to relax and be more present. This year can be the moment you finally let go of the past, stop worrying about the future, and be more present.
Related: What Does It Mean To Be Present in Life?
2. Spend time alone
Alone time gives you a moment to practice self-reflection. Putting yourself in a quiet space to think might lead you to some deeper answers. You may discover what you truly want in life.
Spending time alone can also be your opportunity to take care of yourself. There are many self-care techniques you can start adopting to your routine for better wellness. Among them include:
Related: Why Spending Time Alone Is Important
3. Write down your goals
Those who write down their goals are 1.4 times more likely to succeed at them than those who don't. It's as simple as that
Make your hopes be more likely to come true by writing out what they are. Once you have the goals set out, put together a plan.
Create some incremental steps that you'll take to help you achieve your task. Research also shows breaking bigger goals into small steps helps you be more likely to succeed.
4. Push through adversity
Overcoming adversity is a part of getting the things you want. At some point, everyone usually faces some kind of setback.
You have to be ready to persevere through the hard times. One way to move forward through difficulties is to practice good coping skills.
This can help alleviate the severity of the emotions you're feelings. Among many coping skills you can try include:
Along with alleviating your emotions, have a support system. Having supportive people to encourage you can help you feel strong enough to face whatever life dishes at you.
5. Don't settle for less
Maybe for some time you've allowed yourselves to accept what little you can get in life. Now can be the time you demand more for yourself.
Choose to never settle for less when it comes to your relationships, your finances, and your happiness. Set high expectations for yourself.
Related: Never Settle For Less - 5 Ways To Achieve Your Desires
6. Embrace the journey
Life really is a journey. We're in a constant cycle of ups and downs.
We learn from downs and hope we make decisions that create more ups. When you choose to embrace the idea of life being an adventure, it can help all it seem less scary.
7. Let go of people no longer in your life
The new year is a good time to move on from the relationships that were lost. People come and go in our story and that's okay.
If you've struggled to get over a lost love or friend, make it your resolution to let go. Letting go of someone can open the door for new people to come in your life and make you even happier.
Lots of people say learning new things can be a good resolution to set. Perhaps an even better one is learning new things related to your passion. The more new things you learn related to it, the more information that can help you succeed at achieving your passions.
9. Follow successful habits
There are many habits that successful people do that you can start doing in the new year. A few of the ones you can consider adopting in your routine include:
Starting your day early
Prioritizing exercise
Being more giving
Learn more successful habits you can start in the new year. It's possible one of them might make a huge difference for you.
10. Be consistent
It's often consistency that leads one to be successful at accomplishing their goals. When a person a works out regularly, they usually become more fit.
When a student studies often, they usually do well in school. Being consistent in the choices you make everyday can eventually lead to some kind of success. Learn more about why consistency can be the key to your success in this coming year.
11. Think bigger
When we think big, we open the door to the possibility of achieving big. Even if you don't achieve exactly what you want, there's a good chance you'll have achieved something significant.
You'll have learned about how strong you are and how capable you are. We can gain a greater sense of who we are and perhaps realize more what will make us happy.
12. Be intentional
Being intentional means setting an alarm in the morning so you'll get up early. Being intentional can also mean setting your clothes to put on the next day.
Living intentionally is simply being deliberate in how we go about our life. That means planning and preparing for things ahead of time. It means deciding to do something that's best for you, rather than something that you feel like doing in the moment.
13. Strive for personal growth
Personal growth is about striving to be the best version of yourself. A smarter, stronger, kinder, better version overall.
Take time to really be honest about your weaknesses. Think of what others you respect and trust have told you. Then work on finding ways to improve on those weaknesses.
Related: Personal Growth Challenges - 15 Ways To Better Yourself
14. Learn the lessons from your failures
Make this the year that failure is no longer something you let get you down so much. Instead, it's something that fuels you to even greater heights in who you are.
Failure can be one of your greatest teachers. When thinking of your failures, think of things you can do better next time if you face that situation again. Hopefully it'll make life a little more easier for you.
15. Be less afraid of making mistakes
Perhaps one of the biggest reasons we don't try things sometimes is because we're afraid of making a mistake. We fear something is going to go wrong.
But what if something goes right? And if it does go wrong, is it the end of the world?
Strive to not fear messing things up. And even if you do mess something up, maybe there's a way you can make your mess your message.
16. Be mindful of your thoughts
Our thoughts guide our decisions more than we realize sometimes. Our actions are usually impacted by what we focus on most
If you focus on how sad you are most of the time, then you''ll probably not be motivated to do much. If you focus on things that make you happy, you might be more encouraged to take more action.
Try your best to be deliberate in how you think. Minimize negativity and maximize positive and rational thinking.
17. Plan your days
Schedules add structure to your day. If I don't put down things I'm going to do in my day, I usually don't end up getting most of what I wanted done.
I've found it helpful to write things in my phone since it's something I look at a lot in my day. Put down your to-do list somewhere you know you'll look often. When you have a plan set for your days, you'll be surprised how much more you might get done.
18. Manage your time better
Managing your time better means not only setting a schedule, but sticking to it. Being diligent about doing things when you'll do them.
When it's time to go exercise, go exercise. When it's time to study, start studying. Getting in the habit of doing things on schedule will save you time to do more of the things you enjoy. You also help yourself avoid the effects of procrastination.
19. Stop buying things you don't need
Choose to spend your finances on things that really matter to you. The things you buy should be related to what you're passionate about.
We're often persuaded by clever advertisements to buy the latest new phones and other gadgets. But stop to ask yourself if it's what you really want.
Reflect and reconnect with what you value in life. Once you've come to a clear understanding of your values, purchase accordingly.
Related: The Ultimate Guide on How To Stop Buying Stuff You Don't Need
20. Don't let little things bother you as much
There are many things in life to get mad about. If we waste our time getting mad about everything, we won't have much time to just be happy.
Practice being patient in moments where you could get upset. Do your best not to dwell on things that bother you for more than a few minutes.
Related: 12 Ways To Stop Letting The Little Things Bother You
21. Declutter your space
There may be things you're holding on to that it's time to let go. The clutter you have stored up takes up space for other things you could enjoy more. Your clutter could also bring new joy to someone else.
Take time to go through all the things you don't really use more. Decide to make room for new things that can bring you joy in life.
Related: 10 Minimalist Tips for Decluttering in 2021 That Will Make It Easier
22. Have more fun
As we get older, life gets more and more serious. But it's good to stop and take time to have some fun.
Decide you won't let life be serious all of the time. Choose to make time every week for something fun you can do. It can potentially help take the edge off of the bad things we experience sometimes.
Resolutions are a good way to set yourself on the path to a great new year. Be bold and set ones that would make you really happy to achieve.